Subscribe to Gold Member Elite & Get 4 Big Bonuses.

Every month you will receive $79.00 in credits added to your Elite Account to buy what you need when you need it.  Also get an additional 10% off purchases storewide.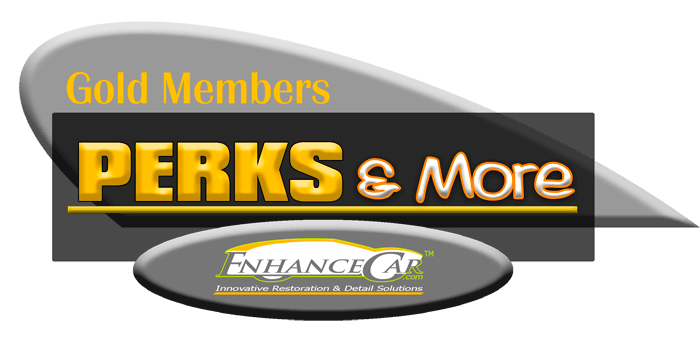 Get Deals in the Perks & More Store.
Get discounted and free educational and promotional products. Take advantage of special offers only available to Gold Elite Members.  Perks & More helps you work smarter and and sell more!

Save Big & Get More for Only $79 a Month.
Terms & Conditions:
Billing: Gold Member Elite from EnhanceCar.com is a monthly recurring subscription. Recurring billing is maintained by paypal.com. Upon checkout you will be asked to pay with Paypal or credit card. Whichever you choose you will be required to login or create a free Paypal account. Some benefits are virtual products which makes payments non-refundable however you may stop recurring billing by canceling membership at anytime for any reason with no obligation.
Product Benefits: $79 dollars in credits will appear in your account each month. There is no obligation to use credits within any time period. Credits will roll over each month and will never expire accept when used to purchase product. Additional promotions such as 10% off storewide can be adjusted by EnhanceCar at any time. Such promotions may or may not be usable with other discounts from EnhanceCar or other entities.
Perks & More: Not all special offers for Standard Gold Members are available for Elite Gold Members. Some offers may not be combined with other offers.
Smart Central: This service is provided free to Gold Elite Members. Some offers at at SmartCentral-MG.com may not be available to the free service provided through Gold Member Elite subscription. Services or promotions are subject to change.
Dvelup Web Services: Website, Dvelup Builder and hosting is provided free for one web page. Publishing to your website  illegal or offensive material which includes pornography, negative remarks against a race, religion, minority or gender and foul language may result in suspension or termination of your web services.
Gold Member Elite: Available to approved clients only. EnhanceCar may cancel any clients subscription at any time for any reason it deems necessary. In the event a cancellation by EnhanceCar occurs only the balance of the product credits will be refunded. EnhanceCar will not be held responsible for any perceived losses due to the cancellation.